When:
January 20, 2018 @ 10:00 pm – January 21, 2018 @ 4:00 am
2018-01-20T22:00:00+00:00
2018-01-21T04:00:00+00:00
Where:
VuVu
30 East St
Bromley, Greater London BR1 1QU
UK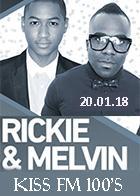 VuVu's Fifth Anniversary
hosted by KISS FM Rickie & Melvin
Time flies fast when you're having fun. Five  years gone in a flash! And what years. A raft of amazing parties, amazing artists, most popular celebs, finest promoters, and amazing people.
This year we're delighted to welcome back Kiss FM favorites, Rickie and Melvin, the two members of the famous KISS FM Breakfast Show trio. Melvin is also Lego Masters host and former Strictly Come Dancing star. Expect a rocking full house as Rickie & Melvin take to the decks for a monster DJ set!
✮ ☆ ★ RICKIE & MELVIN - KISS FM
✮ ☆ ★VuVu Residents
✮ ☆ ★ VuVu Divas
✮ ☆ ★ Live Percussion
★ ENTRY.
Free for ladies on guest list b4 10.30 pm. £7 on guest list thereafter (b4 midnight). £10 if not on guest list or after midnight
★ DRESS CODE: Smart & Glamorous. No sportswear
★ DRINK OFFERS
☆ 2 4 1 Sumptuous VuVu Cocktails b4 11.00 pm
★ VIP TABLES/BOOTH 07765921023 (See VIP packages)
★ Guest List: www.vuvuclub.com/contact-us
★ AGE
18+ for ladies, 19+ for gents. A proof of identity required.
★ OPENING TIME
10.00 pm – 4.00 am
Twitter: @VuVu_Nighclub
Instagram: vuvu_club
Facebook: VuVu
30 East Street, Bromley
BR1 1QU