When:
June 24, 2017 @ 10:00 pm – June 25, 2017 @ 4:00 am
2017-06-24T22:00:00+01:00
2017-06-25T04:00:00+01:00
Where:
VuVu
30 East St
Bromley, Greater London BR1 1QU
UK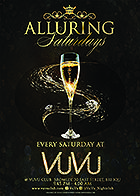 Alluring Saturday at VuVu, one of the few Kent's premier clubs, is established as the place to be on Saturdays where some of the UK's finest DJs spin the latest and coolest dance and urban flavors. If you've got style and panache and like to party in the confidence with like minded people we will see you there!
The club is comprised of the large main room with 8 VIP tables at the edges and Boudoir Suite, a secluded VIP area with its own bar and sound system. Boudoir Suite is for over 25s only (unless reserved for private functions).
This night offers no gimmicks just the chance for you to start your weekend in style in a party atmosphere (http://vimeo.com/87413838) with the most exclusive crowd in town in a premier but affordable club. Enjoy the finest electrifying party music:
Pumping Commercial House, R&B, Club Classics….
played by the finest West End, Essex and South East DJ, supported by extraordinary instrumentalists, occasional PAs & Celebs, Amazing VuVu Divas, Dancers & Performers and vision7media.com photographers.
★ ENTRY.
Free for ladies on guest list b4 10.30 pm. £7 on guest list thereafter (b4 midnight). £10 if not on guest list or after midnight. Last Entry: 1.00 am
★ DRESS CODE: Smart & Glamorous. No sportswear
★ DRINK OFFERS
☆ 2 4 1 Sumptuous VuVu Cocktails b4 11.00 pm
★ VIP TABLES/BOOTH 07765921023 (See VIP packages)
★ Guest List: www.vuvuclub.com/contact-us
★ AGE
18+ for ladies, 19+ for gents. A proof of identity required.
★ OPENING TIME
10.00 pm – 4.00 am
Twitter: @VuVu_Nighclub
Instagram: vuvu_club
Facebook: VuVu
30 East Street, Bromley
BR1 1QU